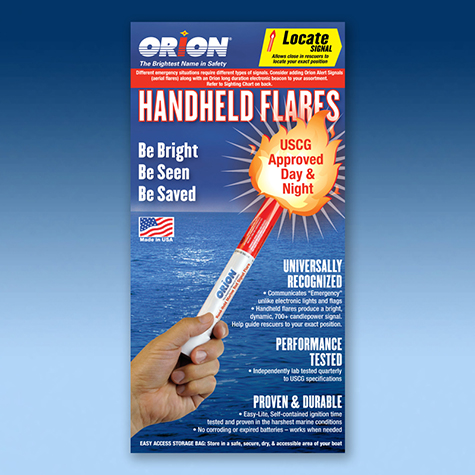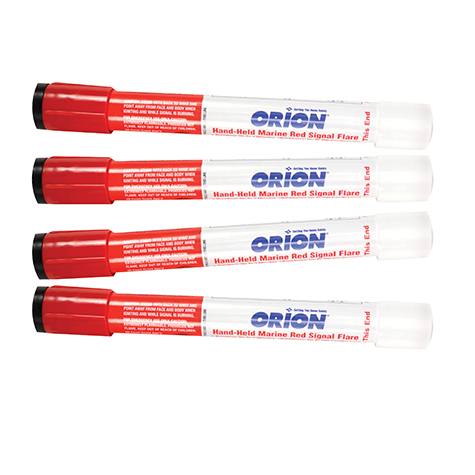 Marine Locator Handheld Red Flare, 4-Pack
Replaced with #265
Our handheld signals are easy to use with a built in protective handle. They store easily in our sealed poly bag and can be used as replacements in our Alert/Locate™ Kits. 
4 Handheld Red Signal Flares – brightness up to 700 candela, burn time up to 3 minutes each
Packed in 4-Color Sealed Poly Bag
USCG Approved for day or nighttime signal.
Specifications
Item Number: 865
Weight: 1 lb 3 oz each
Dimensions: 11 x 8.5 x 1.875
DOT Class: 1.4 S UN0373
UPC: 077403108657
Packages Per Carton: 4
Ex Number: EX1986040106
USCG Approved
WARNINGS / CAUTIONS
Aerial and handheld flares are for outdoor emergency signaling only. These are not toys, misuse can result in death/serious injury. Signal launchers launch burning flares at high velocity. Handheld flares produce hot flame and/or dense smoke.
Keep out of reach of children. Keep away from heat, sparks, and open flames.
Never point a launcher at a person, animal, or anything flammable.
Never store or carry launcher loaded. Do not load the launcher until immediately prior to use.
Do not use where prohibited by law. It is illegal to ignite/fire distress signals in a non-distress situation.
These products are not intended to be used as weapons and, if used for any purpose other than emergency marine signaling, may subject users to civil or criminal action including under local firearms laws.
Store aerial and handheld flares onboard undercover in a secure, safe, dry place.
Read and follow all instructions carefully.
IMPORTANT NOTICE – Orion USCG Approved signals are produced and independently tested to the specifications provided by the Code of Federal Regulation (CFR) 46, Part 160. Signal performance, however, can be negatively impacted if such signals are not stored properly. They must be stored undercover in a secure, safe, dry location on your boat and should be removed during long periods of boat storage. All signals and launchers should be inspected at least once annually for damage caused by exposure to moisture or mishandling.